Materials
Materials we machine and we sell to the market:
Table of material characteristics (for pdf upload)
We machine plastic plates, plastic profiles, plastic rods as well as plastic pipes.
TypES OF materiAL
Laminated paper - PFCP, cotton fabric - PFCC, compressed wood

laminated paper (HP 2061, PFCP 201).

high-pressure laminate HPL – compact boards suitable for e.g. construction and switchboard panels

and a variety of electrical and mechanical applications, fixtures, workplaces in the health care or food industry, or as an alternative to laminated paper with improved electrical insulation properties.

cotton laminated sheets (HGW 2082, PFCC 201) primarily for mechanical applications.
compressed wood – sheets and rods with M threads and nuts e.g. for construction of oil transformers.
compressed wood -type H- with vakuum impregnation for mechanical applications (workshop fixtures, gears, bushings).

Hardened glass fabric with epoxy resin - EPGC

G10, G11 (HGW 2372.4), FR 4 (HGW 2372.1), EPGC 203 for temperature class F, H; "fibreglass".

Hardened glass mats

with polyester resin: UPGM 202, UPGM 203 (GPO 3, HM 2471), UPGM 204, UPGM 205 (HM 2472).
with epoxy resin EPGM 203.

Composites with polyester-based resins are an alternative to the epoxy resin-based composites. Selected types meet fire retardacy (self-extinguishing) requirements in class V0, resistence to electrical arcing, tracking resistance – CTI 600, they have excellent electrical insulating properties and thermal stability in classes F and H and meet the requirements of the standard EN 45545-2.

Heat-resistant materials for special applications

Materials with electrical insulating properties and thermal stability, e.g. Armikanit 500 – material based on mica and silicone resin with heat resistance up to 500 °C. Armikanit Phlogopite has a heat resistance of 750 °C, for short term periods up to 1000 °C.

Materials resistant to electric arc

Sindanyo and Arclex are azbestos-free materials with arc resistance for arc chutes of contactors and electrical switchgear.

Thermal insulating sheets and boards

Precisely calibrated, pressure-resistant sheets ensure the separation of heated and unheated parts of plastic injection molding machines. They are made of Armatherm LT, Armatherm HT and Glastherm (heat resistant up to 200/300 °C).

Materials for tin-wave soldering technology

Materials for tin wool soldering masking frames (solder pallet materials)

Thermoplastics and other materials for electrical insulation and mechanical applications

Teflon, alkali polyamid (PA6), Nylon, PMMA (plexiglass, akrylon), polycarbonate PC (Makrolon, Lexan). Polycarbonate sheets (PCs) are used to produce cover and housing for dashboards and switchboards (transparency, electrical insulation properties, cold-bending properties).
We perform machining of carbon fiber composites and other specialty plastics supplied by the customer.
MATERIAL – TABLE OF TeMPERATURES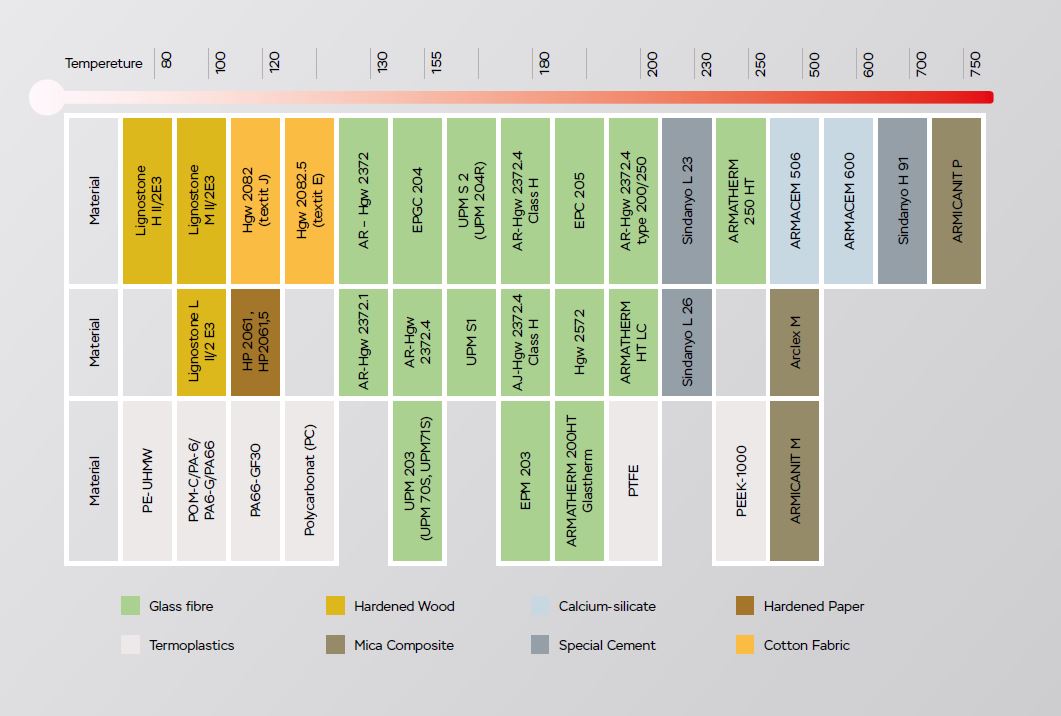 ---